To take full advantage of the Chestnut Soup, you have to know that it is a delicious fruit and it is a real pleasure to find this fruit every winter. The chestnut is rich in magnesium and offers many health benefits.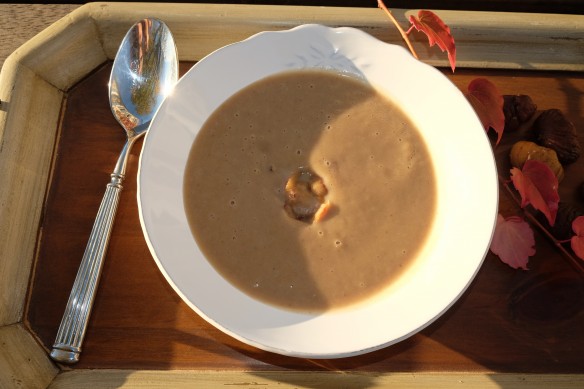 Here are the ingredients you need to make Chestnut Soup for 4 People
250 g natural Chestnuts
2 small shallots, finely diced
1 clove of garlic, peeled and pressed
1 c. Butter
1 celeri rave, washed, peeled and cubed
750 ml of vegetable broth
100 g of double cream
You will find below the procedure for the realization of the Chestnut Soup
Sweat the chestnuts with the shallots and the garlic pressed into the butter. Add the celery pieces and broth and simmer for about 20 minutes. Go to the mixer.
Stir in double cream, season with salt and pepper and season with nutmeg and balsamic vinegar. When serving to incorporate a double cream nut and chestnut broccoli. Serve warm.
Now if you love chestnuts try these Chestnut Flour Buns