To enjoy different cocktails on a sunny Sunday, why not try my gorgeously soft Waffles recipe for a Spring brunch, sweet,  it can also accommodate some savoury dishes and… that is why,  Bon Appétit at Laclassedecuisine.com !
Ingredients for 4 People or 10 Waffles:
1/2 cup (125 g) butter at room temperature
6 eggs
1/2 cup (125 g) caster sugar
the juice of one orange
(1 cup) 2.5 dl whole milk
3/4 cup (200 g) flour
icing sugar for dusting the waffles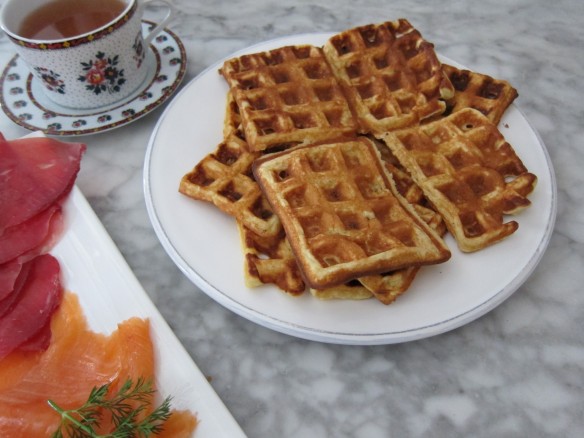 Whisk the butter and egg yolks until it is foam for about 3 minutes. Add 80 g sugar and your orange juice and continue beating for 2 minutes.
Beat the egg whites until stiff with the remaining sugar. Add half of the egg whites to your preparation then add the milk and flour. Finally, gently mix the remaining egg whites.
Brush your hot waffle iron with some butter and pour in the center 2-3 small ladles of batter and cook, referring to the manual of the device. Sprinkle with icing sugar and serve immediately the waffles with fresh fruits and / or whipped cream.