Deliciously light, this fluffy Irish Cream Chocolate Mousse infused with the sweet flavour of Irish Cream is just perfect for the holidays. See how its done at laclassedecuisine.com !

First, here is the list of the different ingredients you will need to make this Irish Cream Chocolate Mousse that serves 6
2 Tbsp cocoa powder, unsweetened
2 Tbsp sugar
1 cup (200 ml) double cream, very cold
1/4 cup Irish Cram, very cold
1 tsp vanilla
Now, here are the few steps you will need to follow to make the Irish Cream Chocolate Mousse
Stir together sugar and cocoa in a large mixing bowl. Add the double cream. Beat at medium-high speed until stiff peaks form.
Gradually pour in the Irish cream and vanilla beating continuously at high speed until well blended and soft peaks form.
Spoon into serving dishes or glasses and place in refrigerator to chill for at least 1 hour before serving.
Then you just have to enjoy your delicious and light dessert.
What is Irish Cream
It is an Irish Liqueur that is close to Whiskey Liqueur. this liqueur is made by a blend of Whiskey and creme fraiche also called double cream.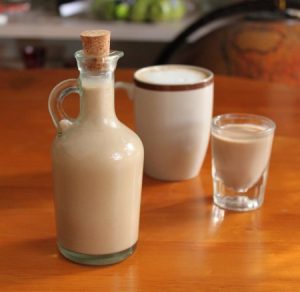 There is a light taste of coffee with a back taste of roasted hazelnuts and almonds enhanced by a light touch of Irish whiskey.
Everything is of course smoothest, thanks to the light cream so that the degustation is quite nice.
L'Irish Cream is  an alcohol at 17 degrés.
One more Classic Chocolate Mousse
if you are not too fan of irish Cream, or simply notusing alcohol you can make this more classic Chocolate Mousse and enjoy it as well !