My big Cookies are like Whoopie pies : 2 small cakes sandwiching a creamy, rich, dark chocolate filling. A classic combination but used here to full advantage at laclassedecuisine.com   !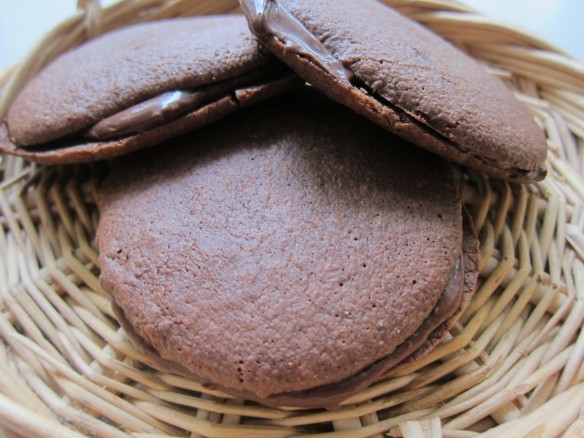 Serves 6                              Preparation 20 minutes      Cooking time 20 minutes
3/4 cup (200 g) dark chocolate
6 oz (160 g) butter
1/2 cup (120 g) powder sugar
4 free range eggs
1/2 cup (120 g) flour
1/3 cup (100 g) ground almonds
For the cream:
1/3 cup (100 g) dark chocolate
1 tsp cocoa
4 oz (10 cl) cream
3 Tbsp (40 g) butter
Turn the oven to 375° F (180 °C). Melt chocolate and butter together over low heat. Whisk the eggs with powdered sugar and add the flour, ground almonds and finally melted butter-chocolate preparation.
Mix well and remove from stove. Scoop 2 Tbsp of batter on lined parchment paper. Cook 7-8 minutes then let cool.
For the cream, boil the cream and add the chopped chocolate and cocoa until it thickens. Add the butter off the heat, stir and let cool.
Assemble the cookies 2 by 2 by sticking them with some chocolate cream and serve.