These Quail's Eggs Mini Roulades is a less classic pairing of ingredients but are very tasty too. Quail's eggs have a higher proportion of yolk to white than hen's eggs and are even more energetic.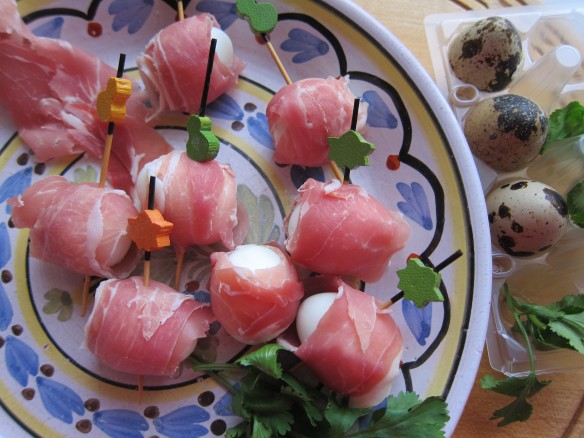 First here is the list of the different ingredients you will need to make the Quail's Eggs Mini Roulades that Serves 4 with a Preparation and Cooking time of 20 Minutes
12 Quail eggs
6 slices of Prosciutto
1 Tbsp olive oil
dry herbs of Provence
Now, here are the few steps  you will need to follow to make the Quail's Eggs Mini Roulades
Start by cooking the quail eggs for 2 to 3 minutes, depending on size, in simmering water. Once cooked, pass the eggs under cold running water. Set aside.
Flake off the quail eggs, dry them and then roll them in your Italian ham strips. Keeping them closed with pikes. Reserve the Quail's Eggs Mini roulades on a large plate, drizzle with olive oil, sprinkle with dried herbs or fresh herbs if you have the chance to have some on hand…and marinate for 1 hour in a plastic film.
Serve as an appetizer and enjoy.
P.S. Now if you love Quail's Eggs try these Quail Croque-Madame