Ingredients for 4 people :
8 quail eggs
8 semi dried cherry tomatoes
4 bread slices
1 big Tbsp (20 g) salted butter
1/3 cup (100 g) sprouts
1 Tbsp Olive oil
Freshly ground pepper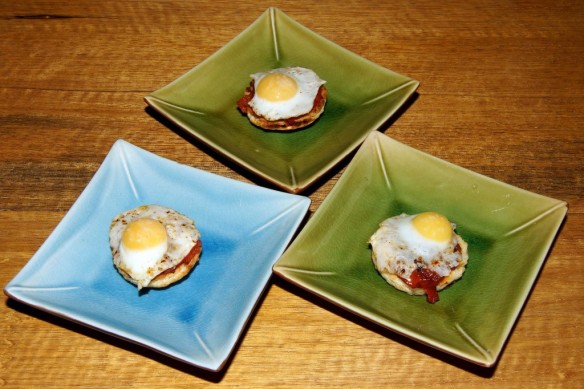 Toast the bread slices lightly to golden brown. Cut the bread slices at the same diameter as the rings of dried tomatoes. (You will make 2 rounds per slice of bread). Fry over low heat the tomato slices on each side then drain on paper towels.
Cook 1 to 2 minutes the quail eggs in a pan with butter.
Sprinkle each slice of bread with a thin drizzle of olive oil and place a slice of tomato on it. Finally, cover with egg and pepper.
Serve on sprouted seeds rinsed and dried and accompanied by a mixed salad.

Print / Imprimer