Serves 6                            Preparation & Cooking time 45 minutes
1 savoury pastry dough
2 small zucchini
4 tablespoons tapenade ( black olive paste)
1 handful Arugula salad
1 fresh onion
Pepper, Espelette pepper ( southwest pepper) and olive oil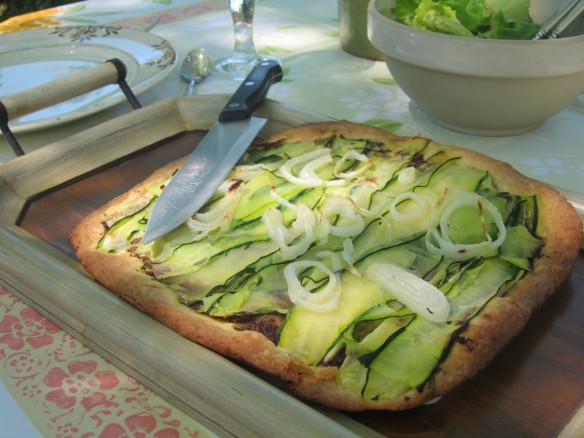 Wash the zucchini, slice them into thin strips using a vegetable peeler and cook 3 minutes in boiling salted water. Dip them in cold water and drain them gently.
Turn the oven to 180 ° C.(370°F) Remove tray from oven and place a parchment paper on top. Roll out the dough on a floured surface, prick it several times with a fork and place it on the baking sheet covered with parchment paper.
Spread the tapenade over the dough then arugula. Finally, place the strips of zucchini and the onion cut into very thin slices. Drizzle a little olive oil on top and pepper, sprinkle with Espelette pepper if you have and cook for about 40 minutes.