This is a real crowdpleaser of a vegetable. the nice green/ Yellow colour has a sweetness that appeals when cooked. it works with so many flavours…
Ingredients for 6 People:
3 small zucchini
1/2 cup (100 g) grated cheese
2/3 cup (150 g) semi-dry goat cheese
2 sprigs thyme
2 Tbsp (3 cl) olive oil
3/4 cup (180 g) flour
1/2 teaspoon baking powder
3 fresh eggs
1/2 cup (10 cl) milk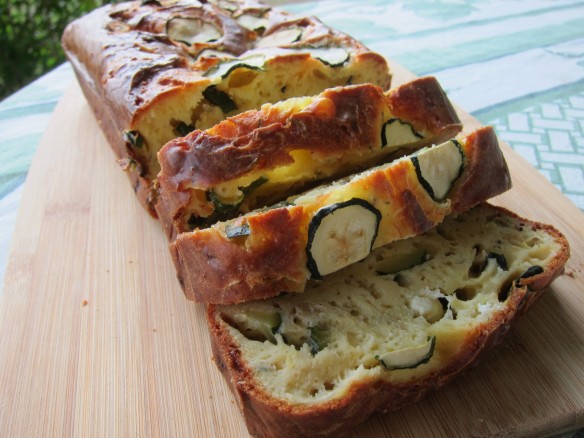 Preheat your oven to 356°F (180 °C). Wash the zucchini, cut a dozen thin slices and set aside. Cut the rest into small cubes and Fry them in some olive oil for about 10 minutes with the thyme leaves.
In a bowl, pour the flour and baking powder. Mix, then add the eggs and milk, beaten previously. Mix to obtain a smooth batter.
Add the grated cheese, goat cheese cut into cubes, fried zucchini and mix everything again with a spatula.
Butter a loaf pan and pour the mixture into the tin. Decorate the top with slices of raw zucchini and bake for about 45 minutes. On leaving the oven, let cool and then take your cake out of the tin and serve, sliced, accompanied by a nice green salad of your choice.