Prepare these Vegetable Greens with Vanilla Butter. The scent of this heady spice bridges the gap between a boundless popularity and meticulous growth culture. Its price is high but is justified by a botanical particularity. Enjoy the delicious perfumes and found more at laclassedecuisine.com !
Ingredients for 4 People: ( Easy dish )
1 cup (250 g) green beans
1 cup (250g) snow peas
1 cup (250g) garden peas
1 small bunch of fresh spinach
1 vanilla pod
4 Tbsp (60g) unsalted butter
Freshly ground pepper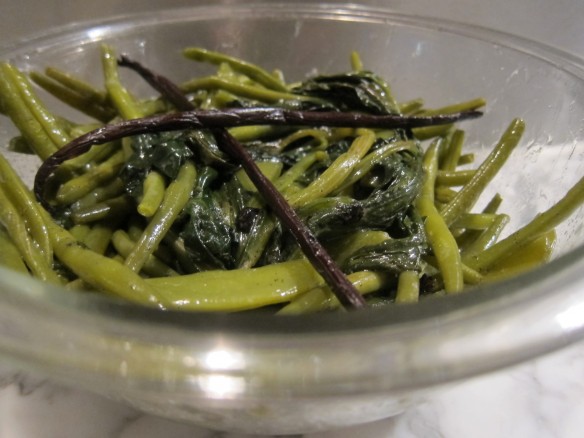 Heat 4 cups (1 liter) of water in your pressure cooker. Remove the stems of your beans and peas, shuck peas and remove the large stems of the spinach. Wash all vegetables in cold water and dry them.
Split the vanilla pod and collect the small black seeds by scraping it with a knife. Put them in a heat-proof bowl, add the butter cut into small pieces, with the pepper.
Place the vanilla pod into the perforated basket of your pressure cooker and add the vegetables, cover and cook for 5 minutes. Place the bowl next to the vegetables and cook another 5 minutes.
At the end of the cooking, mix the vegetables with the sauce and serve, with a white meat or a fish.