With spring comes the desire to clean one's body and feel lighter. The artichoke is one of the ideal vegetables to re-energise. In addition you can eat it raw or well cooked. It is eaten hot or cold and it's a vegetable that is rich in minerals and contains a good amount of potassium. For a full dinner, try the Tatin Tart with Candied Artichokes. And… Bon appétit at laclassedecuisine.com !
Ingredients for 4 People:
2 cups (500 g)  artichoke hearts
2 red onions
1 sheet puff pastry
2 tablespoons brown sugar
1 tablespoon balsamic vinegar
1 tablespoon olive oil
Salt and freshly ground pepper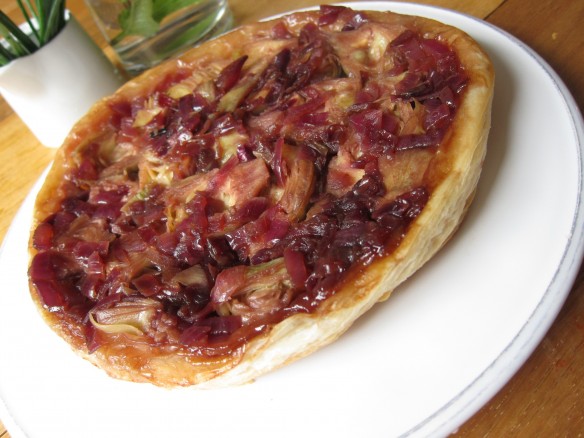 Preheat your oven to 400°F (200 ° C). If you are taking fresh artichokes, trim the funds and cook in 4 cups (one liter) vegetable broth for 15 minutes. for a quick Alternatively, take canned artichoke hearts.
Peel and chop the onions. Fry them in olive oil with brown sugar and vinegar for 10 minutes. Add the artichoke hearts and caramelize, about 3 minutes.
Butter a pie plate and place the artichoke hearts and onions. Salt and pepper and cover with the pastry spread returning well the edges.
Bake about 25 to 30 minutes. once your dough and golden and crisp, remove from the oven, leave for 5 minutes then unmold and serve with a green salad.