Sweet Potato is so tender when grated, that there is no need to cook it before making these fritters. Then, the fresh flavours of Jalapeno enhances the mild taste of this vegetable and the mozzarella. The whole family will enjoy !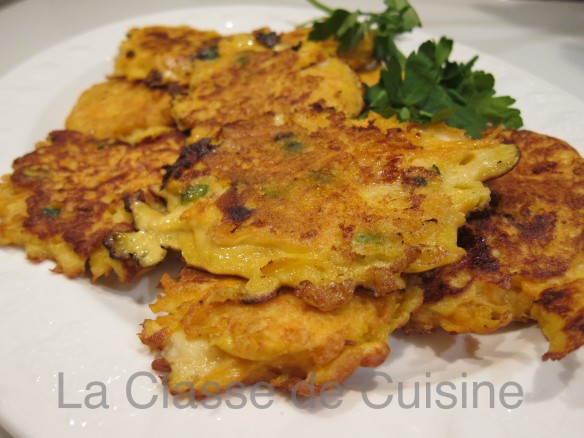 Serves 4                          Cooking Time 20 minutes
1 cup (200 g) sweet Potatoes peeled and coarsely grated
1/2 cup (100 g) mozzarella, cut in slices
70 g Polenta
40 g plain flour
1 tsp baking powder
4 jalapeno, finely chopped
150 ml semi skimmed milk
2 large free range eggs
1 Tbsp olive oil
Place de polenta, flour, baking powder, sweet potatoes, mozzarella and Jalapeno in a large bowl. Place de milk and eggs in a separate bowl and whisk together, then add to the sweet potatoes mixture and stir well to combine. Season.
Place a large, non stick frying pan on a medium heat and add a drizzle of the olive oil. Cook heaped tablespoons of the batter, making small but thick pancakes. Fry for 3 to 4 minutes until golden, then flip over and cook for another 2 to 3 minutes until crisp and cooked through.
Set aside on kitchen paper in a low, warm oven and repeat to make a total of 8 to 10 pancakes. When ready, serve with a nice soup and enjoy !