As thanksgiving falls always on the fourth Thursday of November, we are able to reinvent our traditional American dishes with earthy and healthy harvest foods…Too much Cranberries and Sweet potatoes? Try this succulent Sweet Potato & Cranberry Gratin…
Ingredients for 4 People:
4 sweet potatoes, peeled & sliced
150 g (5 1/2 oz) fresh cranberries, cooked
3 Tbsp brown sugar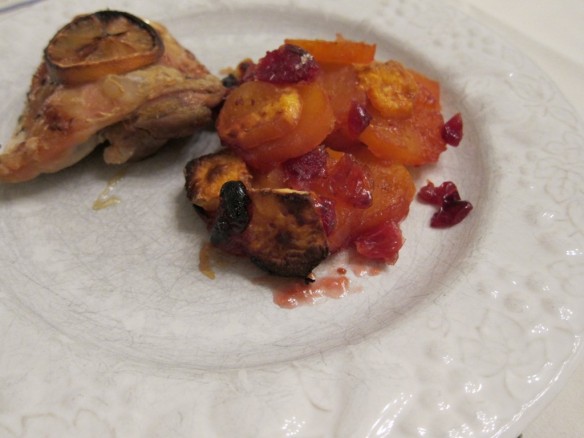 Preheat the oven  to 200 °C /400°F. Place one layer of the sweet potato slices in a large buttered roasting tin. Pour half of your cranberry sauce. Put another layer of sweet potato slices and finish with the rest of the cranberry sauce. sprinkle with the brown sugar and place in the center of your oven and let cook for 35 to 45 minutes or until very tender and juicy. Enjoy with some turkey & Swiss cheese Slice it is just delicious.