This Spinach Triangle Pies Recipe is an Anti Anemia and Vegetarian dish, easy to make. Now to better absorb the iron contained in the spinach, don't forget to season it with a lemon juice. During winter we all have a lack of iron…

Here are the different ingredients you will need to make the Spinach Triangle Pies Recipe for 4 People
1 package shortcrust dough or homemade shortcrust dough
200 g fresh spinach
50 g fresh soft goat cheese
1 Tbsp Olive oil
egg yolk
2 to 3 pinches nutmeg
Salt and freshly ground pepper
Now, you will find hereunder the few steps you will have to follow to make the Spinach Triangle Pies Recipe.
Start by washing and drying the spinach. Then let them cook for 2 to 3 minutes in a frying pan with the olive oil. Add the fresh Goat cheese crushed with a fork and the nutmeg. Add salt, pepper and mix all together.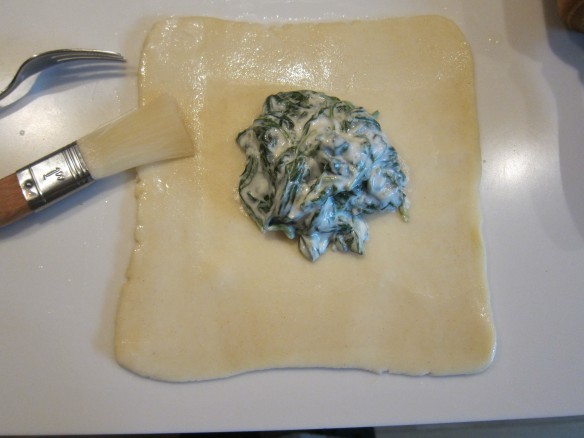 Then spread out your shortcrust dough with a rolling pin and cut out 4 squares. Fill each square with your spinach, cheese preparation. Close the slippers by folding them and seal each square with a little water and by pressing them with the teeth of a fork to make a triangle.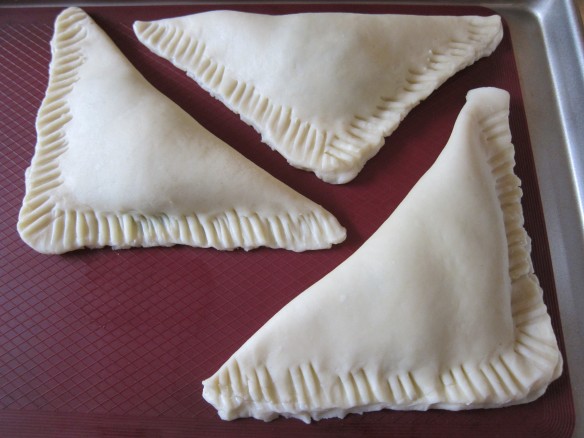 Preheat oven to 345°F (190 °C). Brush the top of your 4 shortcrust squares with egg yolks and a few drops of water and bake for about 20 minutes or until golden brown. Serve immediately with a big salad or a bowl of soup.