I wanted to change the usual style of a vegetable terrine. Instead of adopting the form of a rectangular cake, my Vegetable Terrine looks like this deliciously Round Vegetable Cake. Let's cook up some wonderful and tasty memories…
Ingredients for 6-8 people:
8 nice and big tomatoes
3 Courgettes/Zucchini
2 Aubergines/Eggplant
3 yellow peppers
1 lemon
4 thyme sprig
1 teaspoon grated fresh ginger
12 fresh cilantro sprigs
50g (4 Tbsp) grated parmesan
10 cl (1/3 cup) olive oil
2 sheets gelatin or 1 small bag agar ( vegetarian gelatin)
12 cloves candied garlic.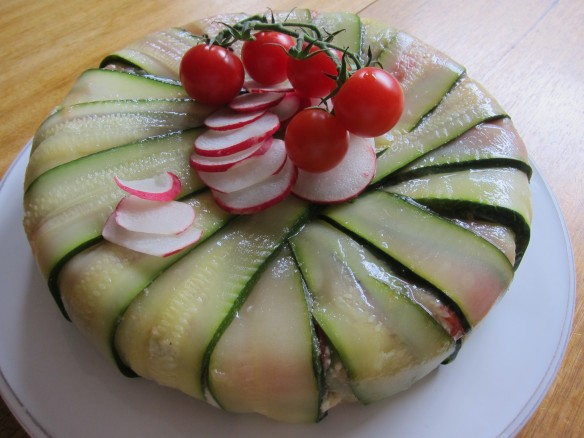 Cut the eggplant into slices and steam them for 20 minutes. Then drop them onto a grill to brown them with 2 tablespoons olive oil.
For the tomatoes, plunge them 30 seconds in boiling water, drain and then remove the skin and cut in half horizontally and remove the seeds. Place the round side up on a plate, sprinkle 4 tablespoon olive oil and bake one hour at 150°C (350°F).
Slice the zucchinis into long thin slices, place them in a dish, sprinkle with 3 tablespoons olive oil, salt and pepper and sprinkle with fine ginger slices and bake at 220°C (410°F) for 10 minutes. They must remain firm.
Wash the peppers and put them in the oven under the grill for 10 minutes or until the skin swells and starts to blister. Right out of the oven, place them into a zip food bag and let cool. Remove the peppers from the bag and remove the skin that comes off easily.
Crush the candied garlic and mix with parmesan cheese, coriander, previously softened gelatin sheets that you put in cold water and the remaining olive oil. Mix all these ingredients to obtain a smooth texture. Line a soufflé dish with cling film leaving it largely overflowing.
Spread in the zucchini slices starting from the center and leaving the fins exceed outward. Put a layer of candied tomato, a little coriander sauce, a layer of yellow peppers, a little coriander sauce and so on, alternating the vegetables. Finish with a layer of tomatoes and fold the strips of zucchini and then the cling film. Place a plate on which you add weight on your soufflé dish and let overnight in the fridge.
The next day, remove the terrine from the fridge, open the plastic wrap and upside down your dish. Remove the cling film delicately. You can decorate the top with radish slices and cut the terrine like a round cake.