Ingredients for 4 people :
4 parsnips (about 500 g or 4 cups)
1 garlic clove
2 sprigs of rosemary
2 tablespoons vegetable oil
2 eggs
100 ml ( 1/3 cup) milk
1/2 teaspoon baking powder
2 tablespoons flour
salt and freshly ground pepper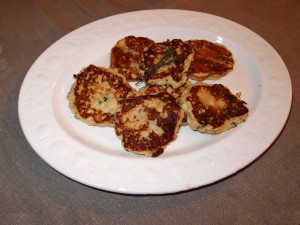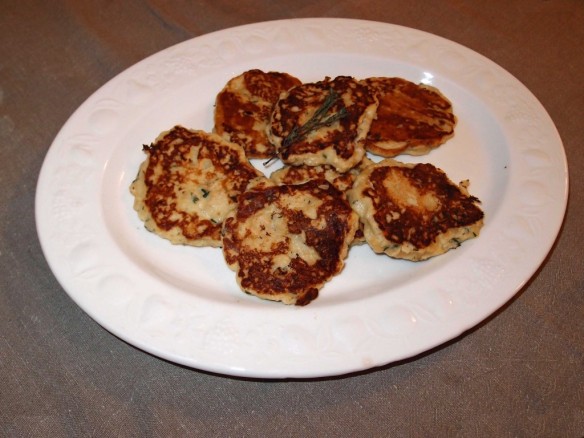 Peel the parsnips, chop coarsely and keep one for grating. Cook the parsnip pieces with the garlic clove in boiling salted water until tender. Let drain and mash coarsely with a fork. Add the two spoon of vegetable oil and let cool to room temperature. Meanwhile, beat the eggs, then add them gradually to the mashed parsnips. Mix flour with baking powder then add the mixture to the parsnips. Finally, whisk in the milk and stir until becoming a smooth paste.Then, chop the rosemary finely and add to batter with the shredded parsnip last. Salt and add pepper.Heat a large oiled pan and cook the batter in small quantities as crepiaux (small pancakes) and you turn the pancake to mid cooking to get golden brown on each side of the crepiau.
You can serve these savory pancakes or as an appetizer with fried mushrooms or as an accompaniment to poultry.