This Parsnip and Hazelnut Gratin is a perfect combination of flavours to serve with a bowl of warming soup on a cold winter's day because this rich and warming dish is a promise of good health.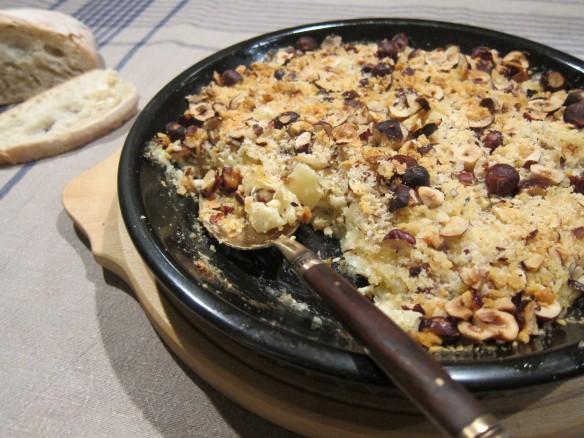 Here is what you need to serve 4
1 big lb (500 g) parsnip
3/4 cup ( 175 ml) double cream
2 garlic cloves, crushed
2 thyme springs, leaves picked
1 heaped tsp dijon mustard
gratin fresh nutmeg
1 1/2 oz ( 40 g) parmigiano reggiano
Large handful fresh breadcrumbs
Large handful hazelnuts, chopped.
Now follow the preparation to get a nice Parsnip and Hazelnut Gratin
Preheat the oven to 375°F (180°C) and grease a medium gratin dish. Use a mandolin to slice the parsnips lengthways. Throw into a pan of boiling water and cook for 5 to 7 minutes until soft but not collapsing. Drain well and set aside.
In a large bowl mix together the cream, garlic, thyme, mustard and a good gratin g of nutmeg. then, stir in half the parmesan. Season and gently toss with the parsnips. Poor into the gratin dish and press down so the liquid seeps out.
Mix together the remaining cheese, breadcrumbs and hazelnuts, then scatter over the top. dot with knobs of butter and bake for about 30 minutes or until bubbling and golden.