Ingredients for 3 jars:
1 kg (2 pounds) meadow mushrooms or mushrooms of your choice
2 garlic cloves, minced
15 cl (1/2 cup) olive oil
Salt and pepper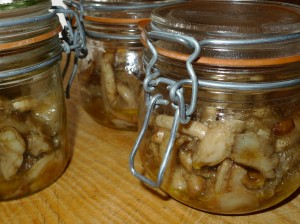 Wash and drain the meadow mushrooms (or other mushrooms). Heat the oil in a pan and fry the mushrooms and garlic for 5 minutes over high heat. Add salt and pepper and pour the mixture into the jars.
Let cool. Clean the rim of the jars with a damp cloth. Place the rubber seal and close each jar.
Sterilize 30 minutes (see tips and methods in Astuces / Tips.
Another method is to blanch the raw mushrooms for 2 minutes then, let cool and place in jars and cover with the cooking water before sterilizing.
You can keep these jars for 1 year in a cool, dry place.