Leek is one of those vegetables that you can do everything with. It can be enjoyed on its own thanks to its subtle taste buds and its richness in essential nutrients, an asset to our health and of course to our well-being. It has a slight, mild and sweet flavour that is particularly appreciated in this recipe of Leek Vinaigrette with an poached Egg.
Ingredients for 4 People:
2 to 3 pencil Leek per person
2 Tbsp Olive oil
Juice of 1 lemon
4 eggs
salt, ground pepper
grated fresh ginger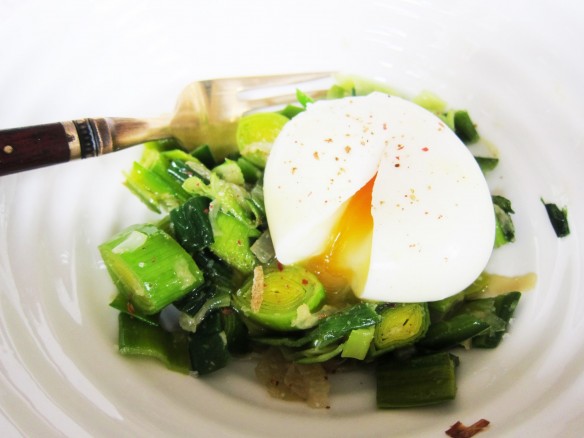 Remove the large leaves and roots of your leek. Split the leeks, rinse with water and dry.
In a pan, heat the ginger in 1 Tbsp olive oil, then add the leeks, adding a little water. Cook over low heat, stirring frequently. At the end of the cooking, they should be tender but still green. Set aside.
In a pan of boiling water, boil the eggs for 5 minutes. Meanwhile, sprinkle the leeks with olive oil and lemon juice, salt and pepper.
At the end of their cooking time, drain off the boiling water and run cold water into the pan for a minute to set the white, and to cool the eggs enough to remove the shells. Peel carefully and place on your leeks.
Pepper the eggs and enjoy without waiting accompanied by crispy baguette slices.