Here, the earthiness of the small potatoes underpins the great flavours of the fresh herbs and the fresh goat's Cheese !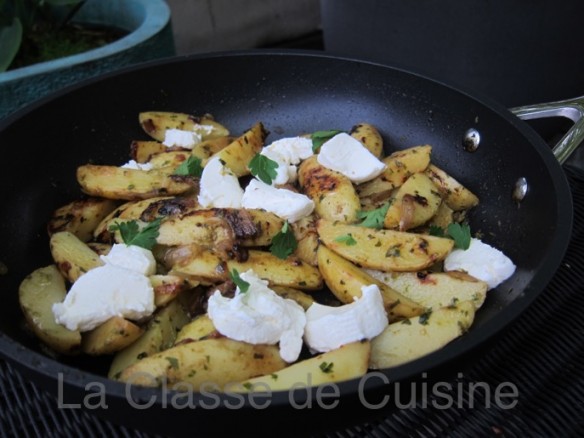 Serves 4                              Preparation & Cooking time 15 + 30 minutes
1 3/4 lb (750 g) Jersey new Potatoes, halved
4 oz (100 g) coriander, trimmed
1/4 tsp ground cumin
1/2 lemon juice
2 garlic cloves, crushed
6 Tbsp Olive oil
4 oz (100 g) French soft Goat's Cheese
In a small food processor, blend together the coriander leaves, less the few you will keep back, with the cumin, lemon juice, garlic and 2 Tbsp water. Gradually, whizz in 4 Tbsp olive oil to make a green sauce. Season well and leave to stand for 15 minutes.
Heat the other 2 Tbsp olive oil in a large frying pan and cook the potatoes, turning occasionally, until cooked golden and crusted. A sharp knife to slide easily into the center.
Pile onto a serving dish, dotting with blobs of cheese. Add the sauce and scatter with the reserved coriander leaves before serving.