For those who love the earthy taste of mushrooms, autumn's bountiful selection give you the opportunity to make now these stuffed Mushrooms that are unbeatable at… laclassedecuisine.com !
Ingredients for 4 people:
8 large mushrooms, portobello type.
30 g (2 Tbsp) breadcrumbs
1 garlic clove, crushed
80 g (1/2 cup) fresh goat cheese, crumbled
1 tbsp fresh thyme, chopped
1 tbsp parsley, chopped
1 egg, beaten
2 tablespoons olive oil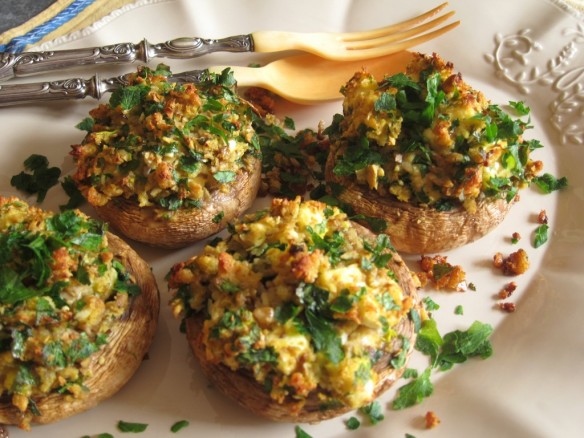 Preheat your oven to 180 ° C (358°F). Remove the mushroom stems and chop finely. Add the crushed garlic, bread crumbs, fresh herbs and goat cheese. Mix and then add the beaten egg, salt and pepper and mix again.
Place mushroom caps thoroughly cleaned, on an oiled baking sheet and spread the topping evenly over each one. Drizzle with olive oil and bake for 15 to 20 minutes or until mushrooms are cooked and golden brown.
Serve with a salad and bread slices or with some fish or any white meat.