This summer vegetable is an opportunity for me to give you this Eggplant Parmigiana recipe. These are slices of eggplant cooked in a tomato sauce, with parmesan. With a small salad, it makes a delicious summer meal.

First, here is the list of the different ingredients. You will need it to prepare these Eggplant Parmigiana that serves 2 to 4, depending on your appetite!
500g or 1 1/4 lb aubergines or eggplant (1 very large or 2 medium)
A 400g or 14 oz box of quality Italian peeled tomatoes (Mutti for example)
15 g or 1/2 oz olive oil
5 g or 1 tsp sugar
1 large garlic clove (or two small ones)
40 g or 1 1/2 oz parmesan
50 g or 2 oz special kitchen mozzarella (without water)
Salt, pepper, Espelette pepper + olive oil to brush the eggplant slices + a some fresh basil
Now, here are the different steps. Follow them well to make this delicious Italian dish perfectly.
Let's start by opening our tin of peeled tomatoes… Pour the tomatoes and all their juice into a saucepan. Mix. Grate a large clove of garlic. The sauce must have a fairly pronounced taste of garlic, so that in the end it seasons the aubergines well.
Add olive oil, sugar and a little salt. Mix well. Let the sauce heat over low heat. It is not at all a question of having it reduced. We just want to melt the sugar.
Now you have to cut the eggplants. Cut them into even slices. For that nothing beats the mandolin of course.
(Cooking eggplant…I do it in a panini grill! It's really awesome. In no time, you get absolutely beautiful and not greasy grilled eggplant slices.
If you don't have such a device, don't worry. All you have to do is cook them in the oven, on a baking sheet covered with parchment paper, at 180°C or 350°F rotating heat for about 25 minutes.
Using a pastry brush, brush the slices with olive oil on both sides. No need to add too much oil. Place the slices in the very hot grill, and cook for about 2 minutes. Watch carefully. It shouldn't burn.)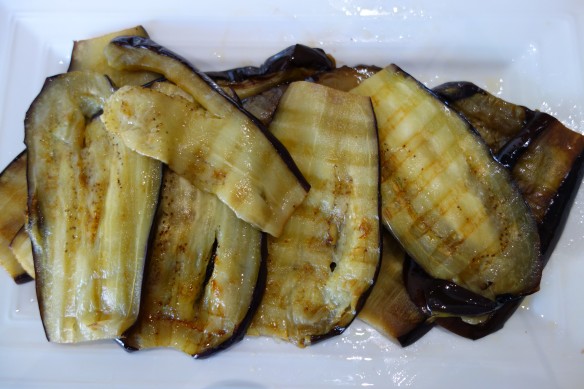 Start by pouring a little tomato sauce in the bottom of the dish. Add a few slices of eggplant. Salt a little (the parmesan is salty be careful), pepper, and add Espelette pepper
Add a little more tomato sauce. And grate some good parmesan. Add a little sauce. It doesn't take too much. The tomato sauce should not be too present. The star of the dish is the eggplant. Then eggplant slices. Salt, pepper, espelettez. And so on…and we just end up with tomato sauce.
Finally, bake for 30 minutes at 180° convection heat.
At the end of this time, take out your dish. Put the oven on "grill" at maximum temperature, and raise the rack one notch. While the grill is heating, chop 50g of mozzarella.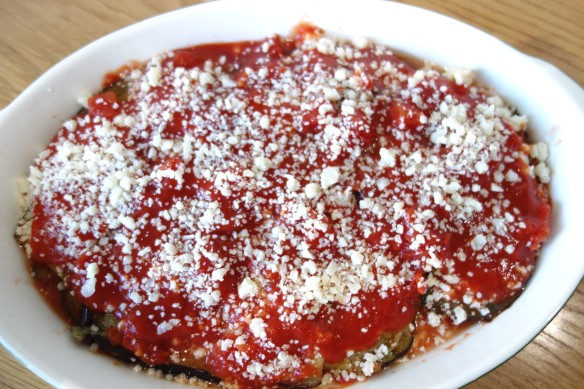 Cover the dish with chopped mozzarella. You can replace the mozzarella with parmesan, or even better Tallegio. It is for me the best Italian cheese for gratins! Leave to brown under the grill for about 2 minutes. Watch so it doesn't burn.
Before serving, add a little (or a lot) of chopped fresh basil.
In conclusion: You can prepare your dish the day before, because the next day it is even better!