These Beetroot Fritters with horseradish cream and spinach have a subtle, earthy flavour and that you can enhance by the warmth of the cumin and the kick of the horseradish.

First, here is the list of the different ingredients you will need to make the Beetroot Fritters that serves 2
2 raw beetroots, about 100 g each
4 Tbsp Greek style yogurt
1 tbsp horseradish
1/2 tsp ground cumin
2 Tbsp chopped dill
4 Tbsp plain flour
2 large beaten eggs
2 Tbsp olive oil
120 g pack baby spinach
Now, here are the few steps you will need to follow to make the Beetroot Fritters with a prepping time of 15 minutes and a cooking time of 10 minutes
Grate the Beetroots. For that wear rubber gloves if possible. Squeeze out as much liquid as you can, then put on a plate lined with 2 layers of kitchen paper. Set aside.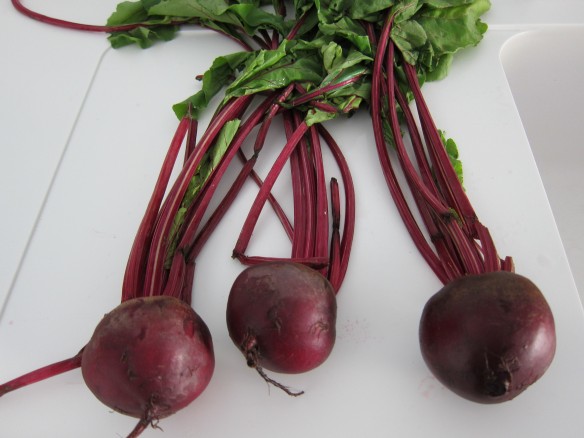 Mix together the yogurt and horseradish, season.
Put the cumin, dill and beetroot in a bowl. Sprinkle over the flour, season, mix well. Then, stir in the beaten eggs. Heat the olive oil in a large frying pan and drop 6 spoonfuls of the mixture into the pan. Cook in batches, if needed.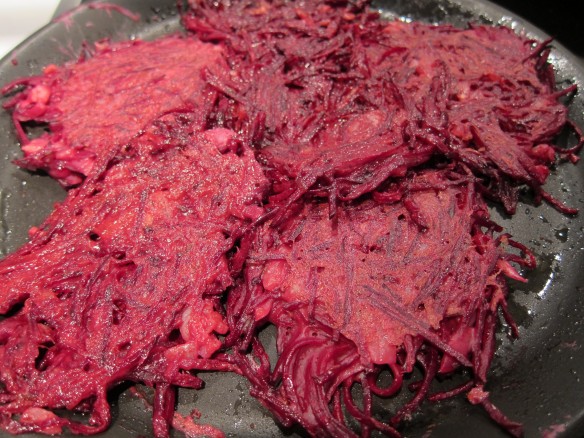 Fry for 3 to 4 minutes on each side, then drain on kitchen paper. Put the spinach leaves in a bowl and toss through the dressing with some roughly chopped walnuts if you like.
Divide the fritters and salad between plates, scatter with dill and serve with the horseradish cream.
You may also like  Beetroot with Pear Soup  and/or  Beetroot Flan