You will get great flavours with these Avocado Espuma in Glasses. Their texture is sweet and silky. Now to avoid an unattractive shade, it is worth tossing the peeled flesh in lemon juice to prevent this from happening.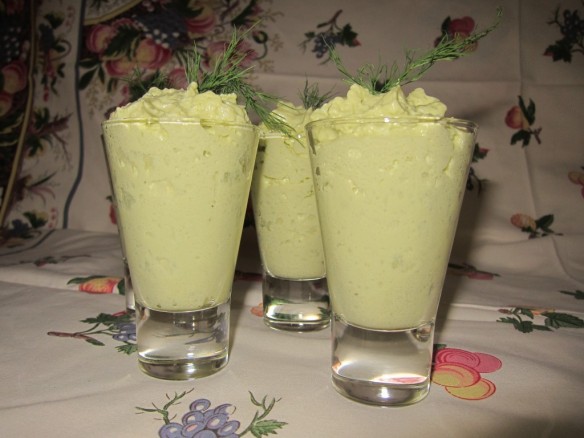 First, here is the list of the different Ingredients you will need to make the Avocado Espuma in Glasses that serves 4 for a 500 ml Siphon 
2 Ripe Avocados
200 g (3/4 cup) organic yogurt
10 cl (1/3 cup) whipping cream
 25 ml (1 oz) lemon juice
1/2 teaspoon salt
2 small teaspoon agar flakes (vegetable gelling agent)
Some dill branches
12 cooked shrimp (optional)
Now, here are the different steps you will need to follow to make the Avocado Espuma in glasses
In a blender, make a puree with the yogurt, lemon juice, salt and dill. Open two avocados and remove the stone. Remove the pulp and add it to your puree.  Mix again. Season with white pepper, salt and finally the whipping cream. Heat the agar flakes, previously soaked in cold water and mixed with a portion of the mixture into a small saucepan.
Let melt by stirring continuously. Add your gelatine with the rest of the preparation, pass through a fine sieve and finally pour into your siphon. Screw a cartridge on your Siphon and shake strongly. Place for 2-3 hours in a refrigerator.
To achieve the glasses, place 3 small shrimp at the bottom of each glass. Remove the siphon from the fridge and shake strongly again. Cover the shrimps with your Espuma batter. Pepper, place a sprig of dill in each jar. Don't wait to Enjoy !