The Smoked Haddock Chowder is a warming soup that gets its creaminess from pureed leeks, sweetcorn and butterbeans.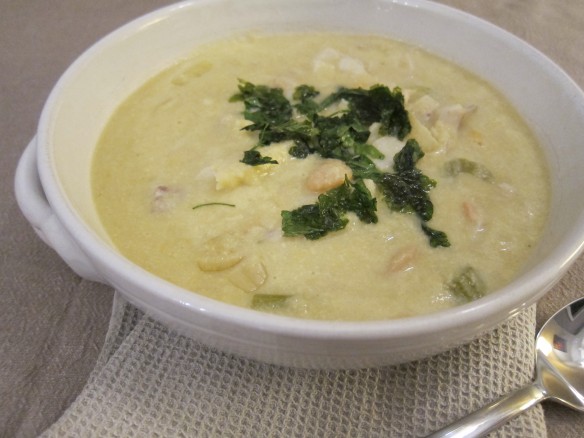 Here are the different ingredients you will need to make the Smoked Haddock Chowder that serves 4
2 smoked Haddock loins
400 ml milk
20 g butter
2 leeks, finely sliced
1 Celery stalk, finely diced
150 ml white wine
400 ml vegetable stock
1 can butter bean, drained
200 g sweetcorn, drained
Here are now the few steps you will have to follow to make the Smoked Haddock Chowder
First, put the haddock loins in a small pan. Cover with milk, heat until just before boiling, then take off the heat. Set aside.
Meanwhile, heat the butter in a large pan over a medium heat. Add the leeks and celery and sauté for 10 minutes until soft. Add the wine, bubble for 2 to 4 minutes, then add the stoclk, beans and sweetcorn. Simmer for 5 minutes.
Lift the fish from the milk. Flake and set aside. Strain the milk into the broth and warm through.
Pulse 2/3 of the broth in a blender until smooth then return to the pan and mix in the flaked fish. Season with salt and serve with some parsley leaves on top.