Soups are the most traditional Appetizer for a meal in France and the variety of French soups is astonishing. Making this Cauliflower Cream with Prawns is a must because you will just love the creamy taste toped with crunchy coated Prawns and Cauliflower is now a season's bests !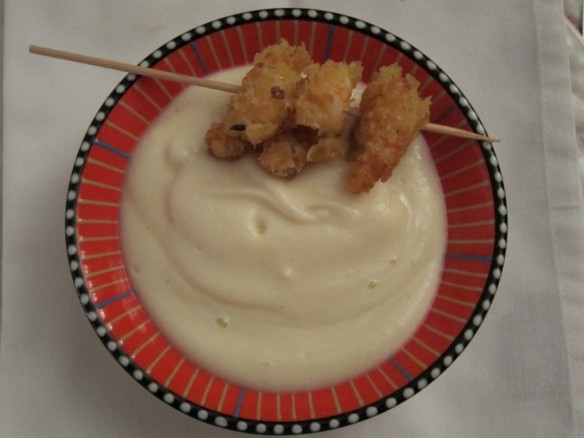 Here is what you need to make this Cauliflower Cream with Prawns for 4 People 
18 prawns
1 small cauliflower
2 green apples
1 onion
2 tablespoons lemon juice
50 cl (1/4 cup) whole milk
 30 g (1 Tbsp) butter
2 tbsp olive oil
3 tbsp flour
You will then follow the steps to make the preparation of your cauliflower cream with prawns hereunder 
First, Boil 3 minutes the cauliflower already divided in small pieces, rinse and cook it in boiling water for 12 to 15 minutes with the lemon juice or until tender. Drain and reserve it.
Fry the chopped onion and apples cut into small pieces in butter for 5 minutes. Add milk, salt and pepper. Simmer for about 10 minutes. Spread the cauliflower in the blender, mix the mixture with apple and milk, gradually adding the liquid. Mix for 3 to 4 minutes.
Remove the shells of your prawns. Put in three different plates. One with flour, one with beaten eggs and one with chopped hazelnuts. Lay the prawns in flour then in beaten eggs then in the hazelnuts to make a coat. Heat a pan with 2 tablespoons of oil, let golden brown the prawns over low heat.
Pour the cauliflower cream into a large soup plate or a nice bowl and arrange the prawns on the side and enjoy !