This Asparagus Gaspacho and Prosciutto Chips is best when choosing very fresh asparagus because the spears are so particularly flavourful. This soup is a refreshing chilled soup that makes a perfect starter for this full spring time…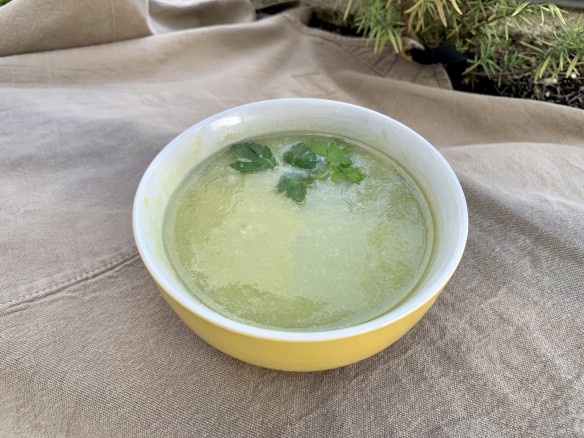 First, here is the list of the different ingredients you will need to make the Asparagus Gaspacho and Prosciutto Chips and that serves 4 
one asparagus bunch, peeled
1 shallot, chopped
1 tablespoon olive oil
500 ml (2 cups) vegetable broth
200 ml (11/3 cup) evaporated milk
Salt and freshly ground pepper
4 slices prosciutto ( optional )
one pinch of Espelette pepper ( or chili pepper)
Then, here are the few steps you will need to follow to make the Asparagus Gaspacho and Prosciutto Chips
To start, wash, dry and peel the bunch of asparagus. Sauté the chopped shallot and the bunch of asparagus, that you already had cut into sections. Stir in the tablespoon of olive oil for 5 minutes then add the vegetable stock. Add Salt and pepper and cook for about 15 minutes over low heat. Set aside and let cool a little bit.
After that, remove from heat and mix everything until a creamy texture. Then add condensed milk and mix again until smooth. Place in the fridge.
Meanwhile, if you like, let stiffen the Prosciutto slices in a pan without any fat and place on paper towels. Let cool. Pour your gazpacho soup into bowls, garnish with crisp Prosciutto and sprinkle with Espelette pepper.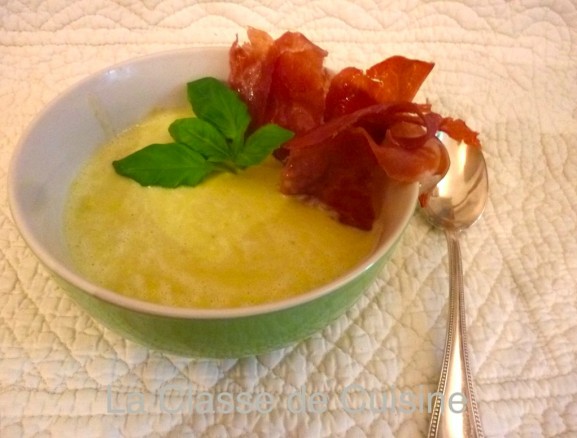 At the end and just before serving, add a sprig of fresh basil leave if you like.