Squid is delicious and tender if cooked briefly. For this nice and quick recipe, squid transforms when it is cooked slowly. It defies all rubbery associations and becomes wonderfully tender. Bon Appétit at laclassedecuisine.com !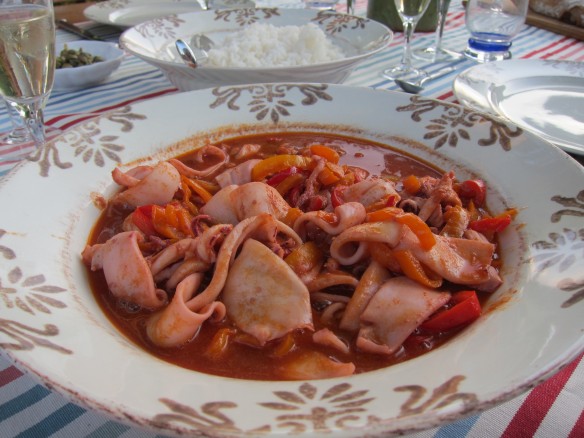 Serves 4                              Preparation 15 minutes Cooking time 15 minutes
3-4 squid per person
2 garlic cloves, peeled and crushed
1 small onion, peeled and chopped
1 pinch Espelette pepper
1 tsp capers (optional)
1 whole tomatoes can
freshThyme
1 Tbsp olive oil
Prepare the squid (or ask your fishmonger to do it ) and cut the squid into strips. In a saucepan fry the squid pieces without any fat. Drain the water if necessary. Cook for 5 to 7 minutes and set aside.
In the same pan, sauté onion and garlic in olive oil. Add the tomatoes and mix. Add the fresh herbs, capers and simmer for 15 minutes.
Finely, add the squid stripes and Espelette pepper and mix again. Simmer a few minutes and serve with rice or pasta.