This small but delicate starter of Scallops in Maple Syrup is an easy starter to prepare. Scallops need to be cooked carefully. Now for a magical effect you can sprinkle some black sesame seeds on top.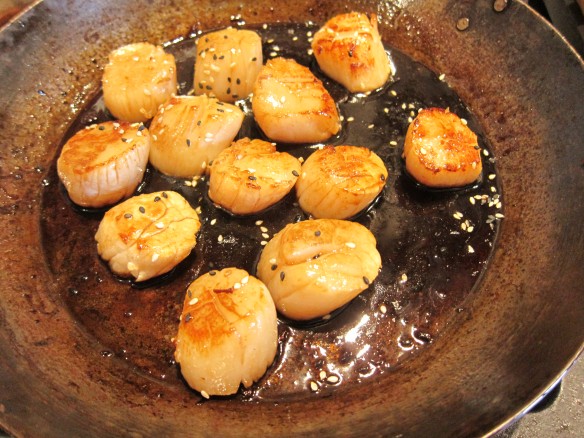 First, here is the list of the different ingredients you will need to prepare the Scallops in Maple Syrup that serves 6 people
24 scallops without coral
50 g unsalted butter
4 tbsp of Maple Syrup
6 tbsp soy sauce
Freshly ground pepper
2 tbsp black sesame seeds
Now, here are the few steps you will have to follow to make the Scallops in Maple Syrup with a preparation of 5 minutes and a cooking time of 6 minutes.
Start by washing and drying your scallops. Melt the butter in a large skillet and fry the barely salted scallops for about 1 minute on each side. Remove them from the pan. Set aside.
Pour in the syrup, soy sauce, pepper and boil for 3 minutes. Be aware that if overcooked they will be dry and rubbery, rather than juicy and silky in texture.
Add the scallops for another minute, sprinkle with black sesame and serve immediately.
P.S. If the scallops are thick, you can easily cut them in half, cooking will be even easier and faster.