Seared Scallops with Lentils, as a supper or dinner… Du Puy are my favorite lentil, but if you've got something else in your pantry, give it a try and bon Appétit at laclasedecuisine.com !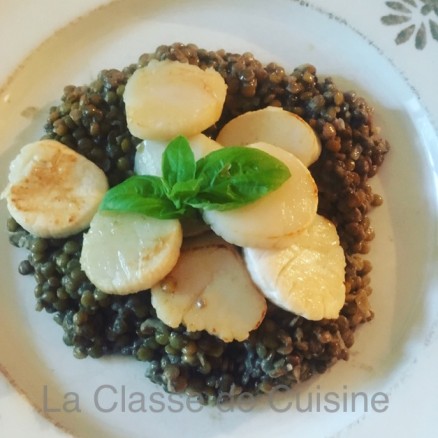 Serves 4                             Preparation 20 minutes Cooking time 20 minutes
1 lb (240 g) lentils
2 cups (400 ml) coconut milk
1 chopped onion
1 crushed garlic clove
1/2 tsp turmeric
1 tsp fennel seeds
2 Tbsp olive oil
16 Scallop
Saute onion and garlic in olive oil until translucent. Add turmeric and fennel seeds. Mix. Add the lentils, pour the coconut milk and cook over low heat for 20 to 30 minutes. If necessary, add a little water while cooking.
2 minutes before the lentils are ready, saute 1 minute on each side the scallops in a pan with one tablespoon olive oil.
Divide the lentil Dahl in the 4 plates. Drop over 4 scallops per plate. Garnish with a sprig of parsley or basil if you like and serve immediately.