This is the time to lean on Beans and Grains. Enriched with omega 3, vegetables, multigrains etc. The grain at the market has never worked harder for your health. Take advantage of these nice and healthy meals at laclassedecuisine.com !
Ingredients for 4 People:
1 lb fresh or frozen shrimp in shells
1/2 cup red Quinoa
1 tsp flour
1/3 cup dry white wine
1 Tbsp white wine vinegar
2 Tbsp lemon juice
1/8 tsp ground black pepper
1 Tbsp butter
1/2 cup sliced red onion
1/4 cup fresh parsley, thinly sliced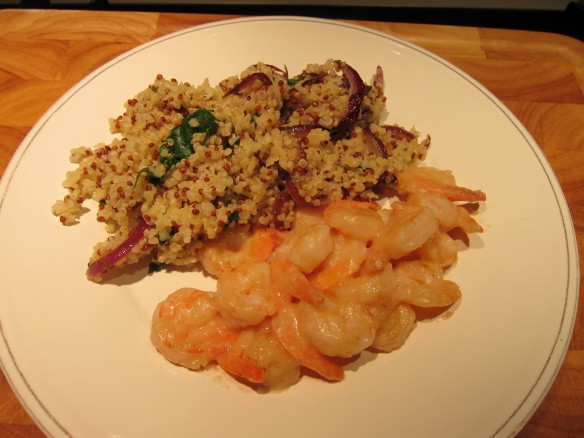 Thaw shrimp, if frozen. Prepare quinoa by following directions of the package. when quinoa is cooked, add parsley and set aside in a warm place. Meanwhile, peel and devein shrimp, leaving tails intact if desired. Rinse shrimp, pat dry with paper towels. Place shrimp in a large bowl. Sprinkle with flour, toss to coat and set aside.
For the sauce, stir together in a small bowl wine, lemon juice and pepper.
In a large skillet, heat butter over medium-high heat until melted. Add onion and cook about 5 minutes or until tender, stirring occasionally. Add shrimp to skillet. Cook and stir for 2 minutes or until shrimp start to turn opaque.
Carefully add sauce to skillet and bring to a boil. Cook and stir until shrimp are opaque and sauce is thickened. To serve, spoon shrimp mixture over quinoa and if you like, serve with lemon wedges.