This Polenta Gratin with Parmesan is a Seriously satisfying dish. It is a take on one of the truly great polenta dishes. It goes well with any roast, but is especially good with beef but also duck. Bring your dish to life with this simple recipe…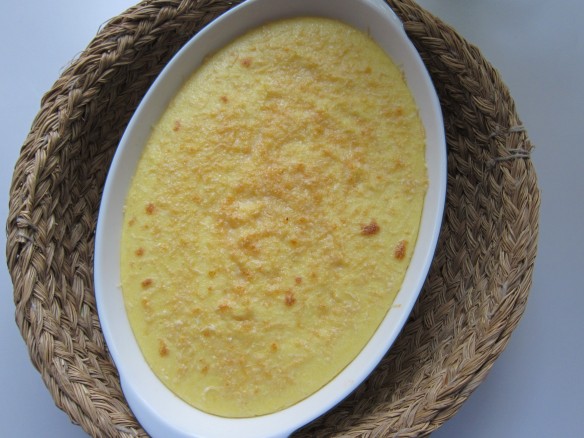 First you will have the list of the different ingredients you will need to make the Polenta Gratin with Parmesan that serves 6
900 ml (4 cups) Water
150 g (2/3 cup) polenta
250 ml (1 cup) whipping cream
2 tsp butter
120 g (4 oz) parmesan cheese, finely grated
Now, you will need to follow the few steps to be able to make the Polenta Gratin with Parmesan  with a 20 minutes cooking time
Pour the water into a saucepan and bring to the boil. Sprinkle in the polenta a little at a time, whisking continuously. When all the polenta has been added, cook for 2 minutes over a medium heat, whisking continuously.
Pour in the cream and cook for another 2 minutes. Finely grate the parmesan cheese and gradually add the first quantity of parmesan cheese. Add the butter. Keep whisking until the polenta has thickened. Add salt. then pour your polenta in a baking dish.
Leave the polenta to stand for 5 minutes and preheat the grill of your oven to high. Sprinkle with the second quantity of grated parmesan. Grill until the cheese is golden and bubbling, hence 10 minutes,
Serve immediately. You may serve it as is or with a backed fish of meat.