Let's cook these Capellini with Lemon and Parsley with organic lemon and a small bunch of very fresh Coriander. Then, open a bottle of Rubicone Bianco, this Italian white wine that enjoys of the most flattering reputation … Dry, fruity and balanced it will marry with your dish perfectly !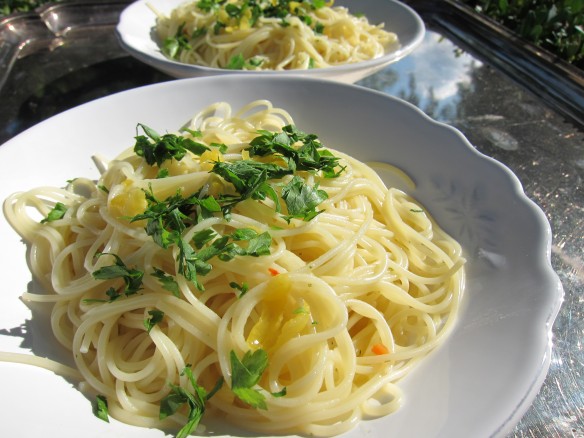 Here is the list of the different ingredients you will need to prepare the Capellini with Lemon and Parsley and that serves 4
500 g Capellini
1 cube vegetable broth
The juice and the zest of 2 washed and dried lemons
100 g salted butter
50 g  pistachios ( optional)
1 small bunch of Parsley
Here are now the few steps you will have to follow to cook the Capellini with Lemon and Parsley and ready in about 15 minutes
Start by crushing the pistachios ( if you like) and rinsing the parsley. Then pour the juice and lemon zest into a small saucepan and bring to a boil. Let simmer for 2 minutes then add the butter cut in cubes and whisk everything to obtain a white sauce or an homogeneous cream. Cover and set aside but keep it warm.
After that, cook the pasta in a large saucepan of water with the vegetable broth cube. Cook pasta according to package directions.
Finally, drain the pasta. Mix immediately with the butter and lemon sauce and add the parsley leaves and the pistachios if you like. Add some fresh pepper from the mill and serve immediately, accompanied by your very fresh Italian white wine ! it is just delicious .