A refreshing idea that makes the perfect partner for any meat or fish. The rice soaks in zingy lemon juice and zest along with mustard seeds and fresh coriander.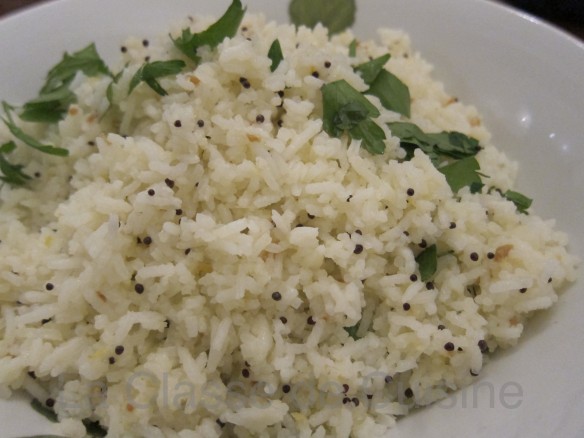 Serves 6                         Cooking time 20 minutes
3 Tbsp vegetable Oil
1 Tbsp mustard seeds
1 1/2 tsp finely chopped fresh ginger root
1 1/2 cup (350 g) cooked basmati rice
2 small lemons, juice and zest
2 Tbsp fresh coriander leaves, roughly chopped
Heat the oil in a large, heavy based pan over medium heat. Add the mustard seeds and let them splutter for 5 minutes. Turn the heat to low and add the ginger. Fry for 5 more minutes.
Add the cooked rice. Stir well for a minute, making sure the rice absorbs all the flavours. Stir in the lemon juice and zest, then turn of the heat.
While the rice is still warm, season to taste, garnish with coriander just before serving and Enjoy !