This Summer Grilled Ratatouille and Bulgur Salad is a classic, deeply refreshing combination that needs very ripe flavourful tomatoes, eggplant and zucchini. Make sure you use an aromatic and extra virgin olive oil.

First, here is the list of the different ingredients you will need to prepare the Grilled Ratatouille and Bulgur Salad that serves 4
1 medium Eggplant or Aubergine
1 medium Zucchini or Courgette
One yellow Pepper, one large onion
2 medium tomatoes
3 Cups or 750 ml cooked couscous ( from 1 cup dry)
two Tbsp fresh lemon juice
1/2 cup fresh basil leaves
Extra virgin olive oil, for brushing and drizzling
Now, here are the few steps you will need to follow to make the Grilled Ratatouille and Bulgur Salad with a preparation time of 20 minutes
Preheat your grill for a direct heat. Slice the onion into thick rounds. Cut lengthwise into big chunks all the other vegetables. Brush eggplant, zucchini, pepper, onion and tomatoes with oil. Season with salt and pepper. Grill, flipping once, until lightly charred and tender, about 5 to 7 minutes.
Transfer to a cutting board and coarsely chop. Place Bulgur in a container, pour your vegetables and accumulated juices on top.
Sprinkle with lemon juice and drizzle with oil. Store in your refrigerator.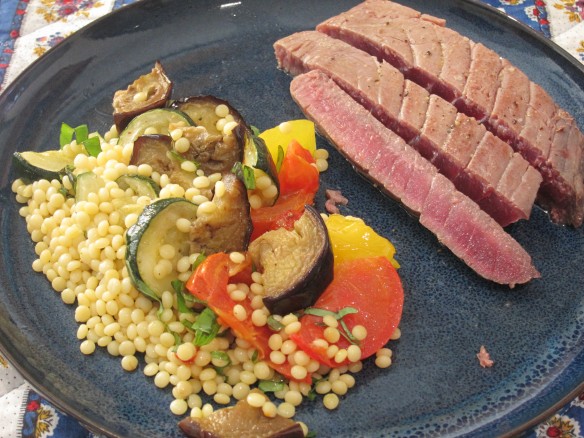 Before serving, let come to room temperature, then serve with any nice fish like Tuna or just bread that you may brush both sides with olive oil. Toast until edges are crisp and charred, three to four minutes, if you like.
You may also rub the top of the bread with garlic, cut into croutons and serve on top.