Ingredients:
15 g (1/2 oz) butter, plus extra for greasing
4 medium leeks, sliced
1 branch of Thyme chopped
150 g ( 5 oz) Ham cut into bite-sized pieces

or

 200 g ( 7 oz) shrimps
150 g ( 5 oz) fresh goat cheese
8 fresh lasagne sheets
Bechamel sauce with 500 ml ( 2 cups) of milk, 1 Tbsp butter & 2 Tbsp flour.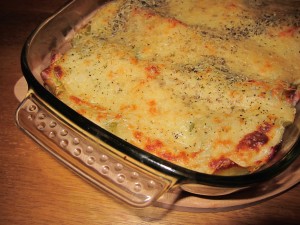 Preheat the oven to 190°C (360°F). heat the butter in a medium saucepan. Add the leeks and thyme, plus a splash of water, then cover and leave to cook gently for about 10 to 15 minutes until the leeks are soft.
Cool for a couple of minutes, then stir in the ham, or shrimps, and goat cheese. Spread a heaped tablespoon of the mixture across the shorter end of each lasagne sheet, then roll up. Put in a large, greased baking dish so they fit snugly.
Make the bechamel sauce by melting a tablespoon butter in a pan. stir in 2 Tbsp flour and cook for 2-3 minutes to form a paste. Gradually add the milk, stirring all the time to prevent lumps forming and simmer for 10 minutes.
Pour the Bechamel sauce over the lasagne, scatter with grated cheese and the remaining thyme and bake in the oven for 20 to 30 minutes until golden brown and bubbling. Serve with some green salad, if you like.