Turkey is a relatively inexpensive source of protein, with more protein per gram than both chicken and beef. Once paired with Zucchini, which is an ideal summer squash that you can easily find until end of September, this dish becomes the perfect blend of health and tastiness for late summer.
So bon appétit at laclassedecuisine.com !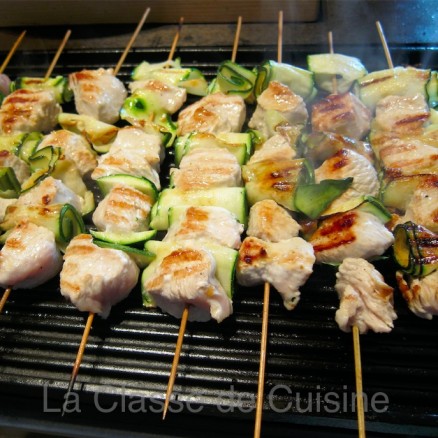 Serves 6                              Preparation10 Minutes    Cooking time 10 Minutes
1 turkey fillet
1 large zucchini
2 tablespoons water
2 tablespoons olive oil
salt pepper
Cut the turkey into big cubes.
Wash, dry and cut the zucchini without the peel into thin slices using a mandoline.
Pour into a large bowl the water, oil, salt and pepper.
Add the turkey cubes and mix well until well coated.
Roll the zucchini slices in length to form small rolls.
Prick the zucchini and turkey pieces on wooden spikes, alternating the meat and the vegetables.
Cook for 10 minutes on the grill and serve immediately.