This Pork Tenderloin with Sun dried Apricots is what we call a slow cooking casserole. You will need no more than half an hour preparation and then… you can do everything else you need to do. Your cooking will sublime the flavours !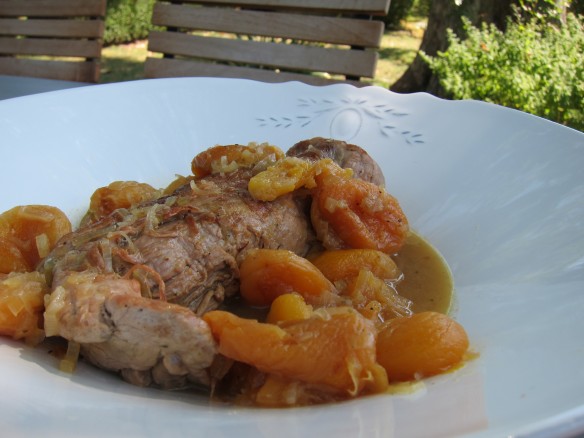 First, here is the list of the different Ingredients you will need to prepare the Pork Tenderloin with Sun dried Apricots that serves 4
1 pork tenderloin of about 500 g ( 1 1/4 pound)
100 ml (1/3 cup) orange juice
1 shallot, sliced
100 ml ( 1/3 cup) white wine vinegar
 250 g ( 1 cup) sun dried apricots, halved
 500 ml ( 2 cups) vegetable broth
Now, here are the few steps you will need to follow to make the Pork Tenderloin with Sun dried Apricots
In a casserole, brown the tenderloin on both sides in a little oil. Add salt and pepper and set aside.
Sauté the shallot, add the vinegar and reduce by half.
Add the apricots, broth, and orange juice. Bring to a boil then add the meat. Reduce heat and simmer 45 to 60 minutes.
You may serve with your tenderloin small potatoes that you can cook in the broth, along with the tenderloin or you may also serve this dish simply with some basmati rice.