Because we are now in early summer, why not enjoying the spring lamb with this Slow Roast Lamb Shoulder that is best cooked… slow and low until the meat is falling from the bone. Now, in addition it is an easy dish to prepare and therefore is also the ultimate roast.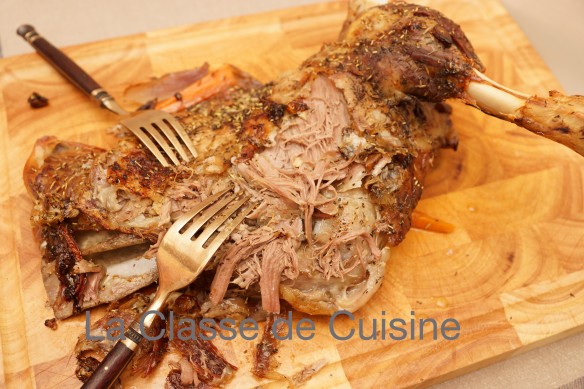 First, here is the list of the different ingredients you will need to make the Slow Roast Lamb Shoulder that serves 6
1 whole lamb shoulder trimmed of excess fat
8 garlic cloves, chopped
1 bunch of Rosemary
3 large onions, cut into wedges
4 Tbsp olive oil
3 Tbsp redcurrant jelly
Here are now the different steps you will need to follow to make the Slow Roast Lamb Shoulder with a cooking time of 5 hours
First, preheat the oven to 270°F (130°C) and remove your lamb piece from the fridge 1 hour before cooking. Using a small knife, make incisions all over, season with salt.
Mix the garlic with the rosemary leaves and the olive oil. Season. Stuff this mixture deep into the incisions and rub the rest all over the lamb shoulder.
Then, place the onion wedges into a deep roasting tin and place the lamb on top, skin side up and cover tightly with foil. Roast for 2 hours and 30 minutes. Uncover and cook another 2 hours and 30 minutes or until the meat is very tender.
Transfer the lamb to a baking tray and rest for 30 minutes, loosely covered with foil. Turn the oven  up to 475°F (240°C) and roast the onions for another 5 minutes, until browned.
Finally, roast the lamb for a final 5 minutes, until the skin is crisp and golden. Rest for 5 minutes. Shred the lamb with 2 forks and serve with the warm redcurrant jelly and enjoy !