According to some Philosophy, staying in synchronisation with mother nature through the changing seasons is the key to healthful living. This involves of course cooking with seasonal ingredients. Winter is dominated by the Earth element, so do not hesitate to include foods as buttery vegetables like here with this Pumpkin Stuffed with Duck confit !
Ingredients for 6 People:
1 small Pumpkin of 3 kg ( 5 to 7 lb)
6 duck legs confit
80 g (4 Tbsp) fluffy dried apricots
1 bunch of cilantro (some sprigs for decoration)
2 pinches of nutmeg
200 g (1small cup) cooked chestnuts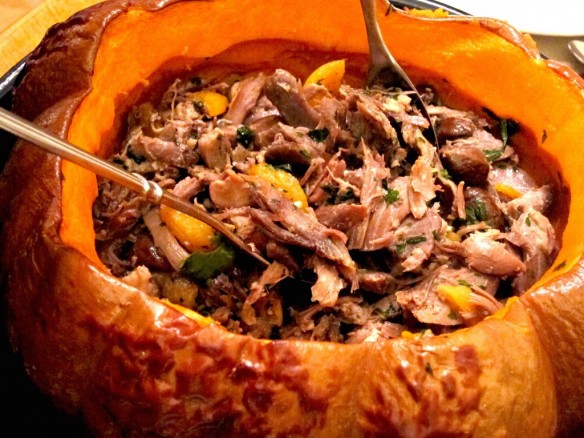 First wash the pumpkin. Cut the cap of your pumpkin with a saw blade knife, and scoop out the pumpkin flesh with a spoon (I I took the ice spoon). Preheat oven to 180 °C.
In a frying top edge pan, heat the duck legs you have frayed the flesh before. With duck fat, brush generously the inside and outside of the pumpkin. Salt and pepper. Chop the washed and dried cilantro bunch, cut the apricots in half and finally prepare the chestnuts.
In the same pan, add nutmeg, cilantro, apricots and chestnuts. Adjust seasoning and fill the pumpkin with this mixture.
Cover with the pumpkin hat and bake for about 50 minutes. The flesh of the pumpkin should be soft. Can be tested with a toothpick.
At the end of cooking time, sprinkle with the left cilantro and serve right out of the oven. It is just Delicious !