This is a light stew that is full of early summer flavours. The artichokes and young carrots give a wonderful creamy finish. Now if you wish, breadcrumbs, stirred through at the last minute gives some more texture.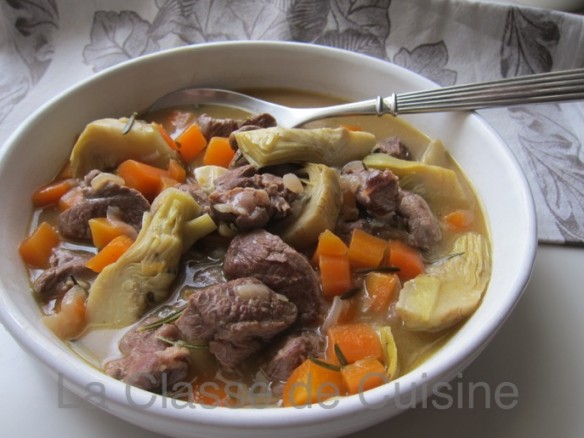 Serves 4 to 6                      Preparation & Cooking time 1 hour 45 minutes
1.25 kg ( 2 3/4 lb) lamb shoulder trimmed and cut into pieces
2 Tbsp olive oil
1 big onion, chopped
3 carrots, peeled and cubed
1 Tbsp plain flour
120 ml (1/2 cup) dry white wine
800 ml (2 cups) hot vegetable stock
juice of one lemon
240 g (1 cup) artichoke hearts quartered
bunch of dill
Season the meat . Heat half the oil in a large casserole over high heat, add the lamb and cook for 6 to 8 minutes until no longer pink. Remove from the casserole and set aside.
Heat the remaining oil in the casserole over medium heat, add the onion and cook until soft. Season with salt and pepper, add carrots and cook for a further 5 minutes. Sprinkle over the flour, stir and cook for 5 more minutes, adding the wine.
Add the stock, lemon juice and lamb. Bring to the boil, cover, reduce the heat and cook for one hour, checking occasionally that it is not drying out. Stir through the artichokes and cook for a further 30 minutes or until the vegetables are tender.
Taste and season if needed and add the dill to taste, then, serve with crusty bread.