Lamb Mince and Carrots with Apricots is the perfect combination and the minced meat benefits from slow cooking. Adding chopped mint and oregano leaves to the dish gives a distinct freshness.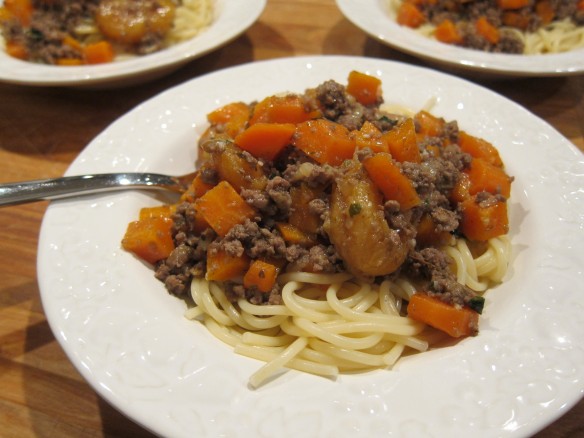 Here are all the ingredients you will need to make the Lamb Mince with Carrots and Apricots for 4 to 6 people
2 Tbsp olive oil
1 lb ( 500 g) carrots, peeled and cubed
1 onion, chopped
3 garlic cloves, finely chopped
1 lb ( 450 g) lamb mince
1 bunch of mint leaves
1 handful fresh oregano
500 ml hot vegetable stock
10 to 12 dried apricots
Now for the preparation of the Lamb Mince with Carrots and Apricots here are the details
Heat half the olive oil in a large casserole over medium heat and add the carrots. and cook for about 8 minutes. Heat the remaining oil and add the onion and cook for 4 to 5 minutes until soft. Stir in the garlic, oregano and cook for a few more minutes. Add the lamb and cook until it is no longer pink. Reduce the heat, add the stock, bring to a boil and then reduce to a simmer.
Stir in the dried apricots, cover and let cook for 1/2 an hour. check occasionally that it is not drying out. Stir in the mint and serve with any pasta you like.