This Spring Lamb Shoulder Casserole is a classic spring dish, served with seasonal vegetables, like spring potatoes. Perfection on a plate ! The vegetables have been harvested early in the season. they forme the ideal accompaniment to lamb.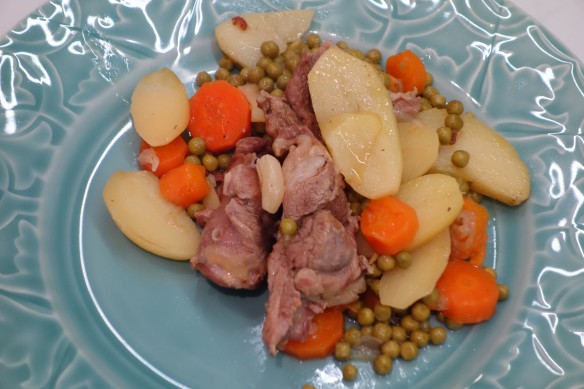 First, here is the list of the different ingredients you will need to make the Spring Lamb Shoulder Casserole that serves 4 
1.2 kg (2 3/4 lb) boneless lamb shoulder, cut into pieces
5 carrots
2 large onions, sliced
300 g (3/4 cup) frozen peas or fresh
4 large potatoes
4 garlic cloves
50 cl (2 cups) vegetable broth
6 tablespoons olive oil
2 fresh thyme sprigs
Salt and pepper
Now, here are now the few steps you will need to follow to bake the Spring Lamb Shoulder Casserole 
Preheat your oven to 180 °C (355°F). Peel the carrots and cut them into slices. Peel onions and potatoes, cut into thin slices.
In a cast iron casserole, heat the olive oil over medium heat and put the lamb shoulder pieces until they are golden brown. Then, remove them from the casserole and remove the fat. Add garlic, onions, thyme and a drizzle of olive oil.
Mix well. Add the ​​carrot slices and peas and mix again. Pour your vegetable broth and return the lamb shoulder pieces to the casserole.
Add salt and pepper, bring to the boil then remove from heat. Top with sliced ​​potatoes, overlapping. Brush with the remaining olive oil. Cover and bake for about one hour.
After this time, remove the lid and continue cooking for 1/2 hour or so to golden brown the crust of your potatoes.

Enjoy your dish by serving your lamb shoulder in your cast iron casserole for an even more friendly atmosphere and Bon Appétit…