Pork, is often marinated and grilled for the enjoyment of all participating. Do not hesitate to accompany this famous American Baby Back Pork Ribs with corn on the cob and a big mixed salad…
Total Time: 3 hours
Ingredients for 4 to 6 servings:
For the ribs:
  3 tablespoons salt
  2 tablespoons packed dark brown sugar
  1 tablespoon garlic powder
  2 teaspoons mustard
  1 teaspoon ground black pepper
  2 full racks baby back pork ribs of about 6 pounds
For the barbecue sauce:
    1 1/2 cups ketchup
    1/2 cup water
    1/3 cup dark brown sugar
    2 tablespoons cider vinegar
    2 tablespoons Worcestershire sauce
    2 teaspoons garlic powder
    2 teaspoons paprika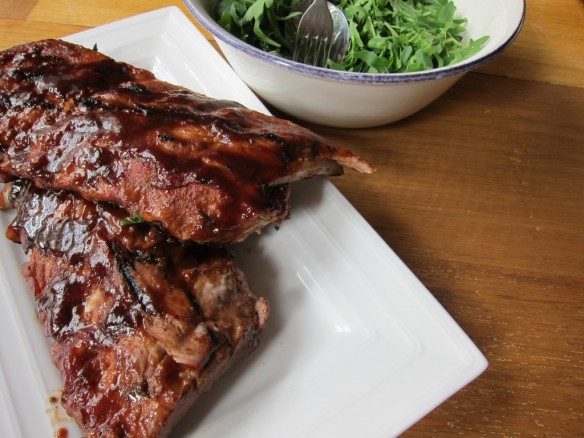 Heat the oven to 325°F and arrange a rack in the middle.  After having slide the tip of a paring knife between the membrane and the bone, lift and cut through the membrane. Evenly coat both sides of the ribs with the spice rub. Pull the foil up and over each set of ribs to create 2 completely enclosed packets. Roast them in the oven while you make a simple barbecue sauce.  Roast until fork-tender, about 2 hours.
For the barbecue sauce: Place all of the ingredients in a medium saucepan and bring to a simmer over medium heat, whisking occasionally. Reduce the heat to low and continue to simmer, whisking occasionally, until the flavors have melted and the sauce has reduced to about 2 cups, about 30 minutes. Remove from heat and set aside until ready to grill. The sauce can be made ahead and stored in the refrigerator. Then, let it come to room temperature before using.
To grill the ribs:
Heat a grill to 350°F to 450°F. Remove the ribs from the foil, place them meaty-side up on the grill, and brush them with some of the sauce. Cover the grill and cook for 5 minutes. Flip and brush the ribs and cook another 5 minutes. Continue to cook, flipping and brushing every 5 minutes, until the sauce has thickened and the ribs are heated through and have grill marks, for a total grilling time of about 20 minutes. Let the heat turn the sauce into a sticky glaze. Transfer the ribs to a cutting board and serve with the remaining barbecue sauce if you wish.