The season for colourful diced salsas taste has come. This Gazpacho Salad taste wonderful, spooned over grilled Fish, it is a perfectly balanced dish !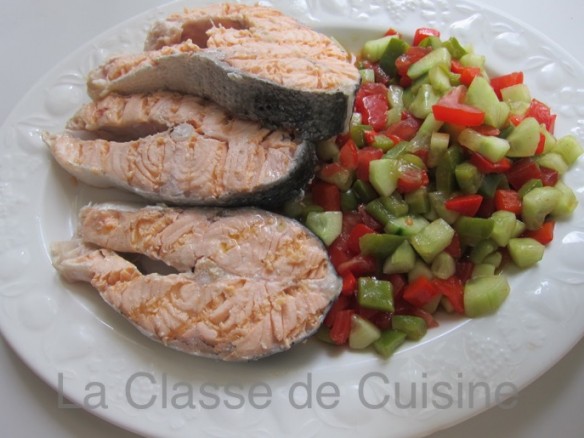 Serves 4                              Preparation & Cooking Time 20 Minutes
2 tomatoes, finely diced
1 cucumber, finely diced
1 red pepper, finely diced
1 green pepper, finely diced
1/4 red onion, finely diced
1/2 Tbsp paprika
1 Tbsp red wine vinegar
2 Tbsp extra virgin Olive Oil
4 Salon steaks
Combine the diced tomatoes, cucumber, peppers, onion, paprika, vinegar and olive oil in a big bowl. Season generously.
Preheat a griddle pan to medium heat. Cook the salmon steaks on the griddle pan for about 3 minutes on each side, or until cooked as you like it.
Transfer the salmon to plates and spoon over the gazpacho salad. Serve with some lemon wedges if you like and some crispy bread.