Ingredients for 4 People:
 4 whole trout, about 300 g each, cleaned and scaled
60 g Hazelnuts
2 lemons
30 g ( 1 oz) plain flour
125 g  (4 ½ oz) butter
2 Tbsp chopped parsley
Salt and ground pepper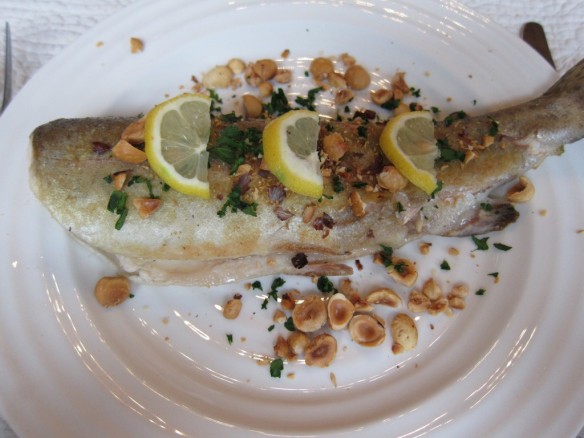 Rinse the trout inside and out and pat dry with a kitchen paper. Pre-heat the oven at 180°C ( 350°F) . Spread the hazelnuts on a baking sheet and toast them in the oven for about 10 minutes.
Trim the ends from a lemon, half it lengthwise and cut into thin semi circles.
Put the flour on a large plate and season with salt and pepper. Coat each trout in flour, patting to coat evenly.
Heat half the butter in a large frying pan and brown over a medium heat for 3 to 4 minutes. Turn the fish over and continue cooking over low heat for 4 more minutes. When ready, the trout will be browned and the flesh will flake easily with a fork, when tested.
Keep the cooked trout warm while you cook the remaining two fish in the rest of the butter.
Serve the trout on a warm plate, stir in most of the parsley and hazelnuts and decorate each trout with the lemon semi circles and serve.