These small round Radish and Pilchards Butter are the ideal starter to accompany fresh aperitifs, cocktails, long drinks and other authentic drinks that set the tone for summer meals! Do not hesitate to prepare a lot.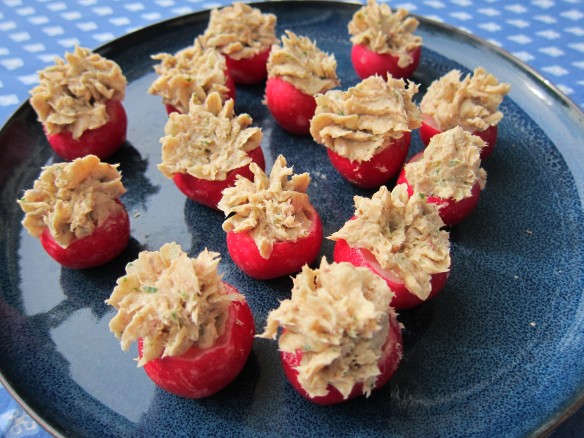 First, here is the list of the different ingredients you will need to prepare the Round Radish with Pilchards Butter that serves 4 people
1 bunch round radishes
120 g canned sardines
100g semi-salted butter
1/2 lemon, 1 garlic clove and 5 basil leaves
Now, here are the few steps you will have to follow to make the Round Radish with Pilchards Butter with a preparation time of 15 minutes
Squeeze the lemon to collect the juice. chop the garlic and the basil. Cut off the ends of the radishes, clean them and lightly hollow out the inside.
Open the can of sardines and remove their central bone.
In a salad bowl, mix well the flesh of the sardines with the salted butter, the lemon juice, the garlic and the basil. Put the Pilchard butter in a pastry bag and stuff the radishes.
Serve it all with a little fleur de sel and small pieces of toasted baguette if you like.