This typical Portuguese Cod and Shrimp Dish, also called "Bacalhau Espiritual" is revisited here for more lightness. I took off the bread and the cream. But it is still just a delight. It is often served around Easter but can also be served at other times of the year.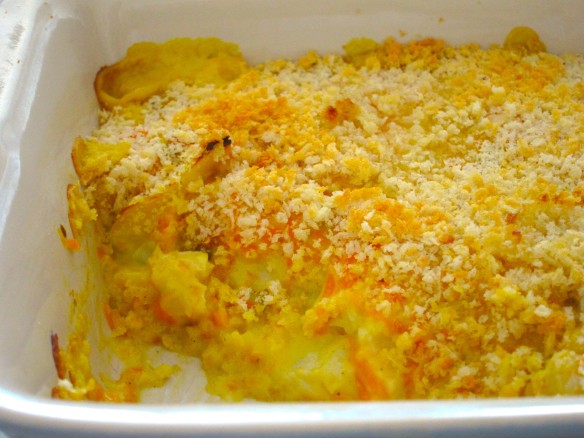 First, here is the list of the different ingredients you will need to prepare this Portuguese-style Cod and Shrimp Dish that serves 4 to 6 people
600 g or 1 lb 50 oz fresh cod pieces
1 bay leaf
1 tsp salt and 1 tsp nutmeg
2 small onions, diced
3 cloves of garlic
200 g or 7 oz grated carrots
3 tbsp virgin olive oil
200 g or 7 oz small prawns
500 ml or 2 cups Béchamel sauce (see Astuces/Tips)
200 g or 7 oz grated Gruyère cheese
Now, here are the different steps you will have to follow to cook this Portuguese-style Cod and Shrimp Dish with a 30-minute preparation time.
Cook the Cod pieces in a saucepan with 2.5 liters of water, 1 bay leaf, pepper and salt. Once cooked, (about 10 minutes) remove the bones and the skin and reserve the cod pieces. Preheat the oven to 180°C or 350°F.
In a skillet with olive oil, sauté the chopped onions, minced garlic, grated carrot, until everything begins to color.
Add the cod pieces and simmer for about 5 more minutes. Remove the bay leaf. Add the prepared Béchamel Sauce and mix well.
Place the preparation in a baking dish. Sprinkle with grated cheese and bake for 15 minutes, or until your dish is golden brown.
Serve immediately and accompanied by a nice green salad if you wish.