Poke Bowl is this beautiful round bowl, filled with superb rice with delicious pieces of very fresh salmon or tuna. Let's honor the original Hawaiian recipe that goes to the essentials and treat ourselves in a healthy way!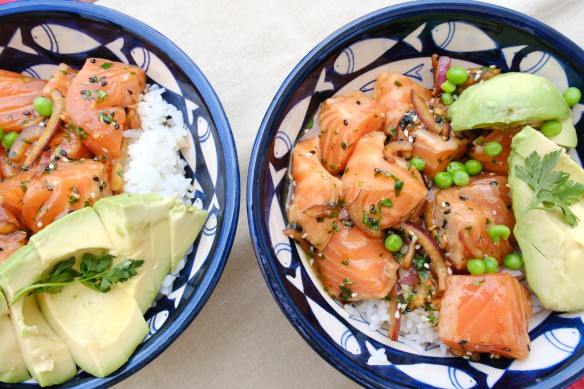 First, here is the list of the different ingredients you will need to prepare Poke Bowl that serves 2 People
400 g or 14 oz very fresh salmon or tuna fillet
200g or 1 cup Asian-style rice
1 sweet onion
1/2 bunch coriander/ cilantro
2 handful of Edamame, optional (young soy bean)
1 ripe avocado and the juice of a lemon
For the marinade:
2 tbsp sesame oil, 2 Tbsp soy sauce, 2 Tbsp rice vinegar and also 1 tsp of blond sesame and 1 tsp of black sesame.
Now, here are the few steps you will have to follow to make this Poke Bowl with a preparation of 15 minutes
Mix the different marinade ingredients with the finely chopped sweet onion and the chopped coriander/cilantro.
Cut the salmon or tuna into large cubes and add your fish to the marinade. Allow to marinate while your rice cooks. Prepare your Avocado. Cut it into strips and sprinkle with lemon juice.
Finally, prepare 2 nice and big bowls. Arrange with a bottom of lukewarm rice, then the fish, half a sliced avocado and Edamame sprinkled on top. Add a little fresh coriander and sesame if you like and serve immediately. Enjoy !