Pilchards are underpriced. They are so good though. To prove it to you, I offer you here a recipe of Pilchard in Oil without frills to fully enjoy the taste of this beautiful little fish.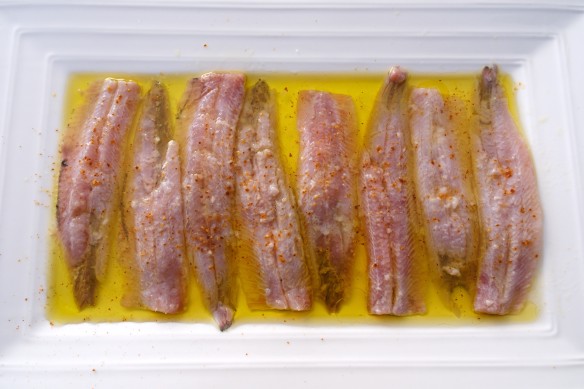 First, here is the list of the few ingredients you will need to prepare these Pilchards in Oil that serves 2 people
4 fresh Pilchard or Sardine
4 tbsp extra virgin olive oil
Espelette pepper
fleur de sel and freshly ground pepper
Juice of 1/2 lemon
Now, here are the few steps you will have to follow to make and be able to taste these Sardines in Oil
For the pilchard/Sardines, scrape the scales. Cut the head off the sardine by passing the blade of the knife behind the gill.
Using scissors or the blade of a knife, remove the innards by cutting from the bottom of the belly to the level of the head.
Run the sardines under cold water to thoroughly remove all impurities, especially from the innards. (You can ask the fishmonger to prepare the small fish).
Then, lay each sardine on its side and run along the backbone with the blade of the knife without piercing the flesh of the back. Flip the sardine and repeat the operation on the other side. Remove the center bone by pinching it with your fingers.
Then run your finger over the flesh to remove the remaining small bones and level.
For the dressing, arrange the Pilchard/sardines in a dish, flesh side up. Add the olive oil. Season generously and squeeze the half lemon.
Serve immediately and the rendering will be close to Sashimi or wait about thirty minutes for a fish a little more cooked by the lemon. Bon appétit !