Ingredients for 4 people:
500 gr (1 lb) firm white fish or ground beef 6 skinless chicken fillets
1 egg
1 lemon juice
1/2 tbsp harissa paste or powder
1 Tsp ground cumin
Handful of flat leaf parsley
3 dash Sea salt and freshly ground black pepper
A little olive oil for brushing (Optional)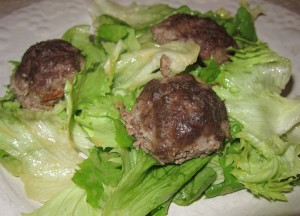 Preheat the oven to 180°C ( 350°F) . Put all the ingredients except the olive oil in a food processor and blend to a paste. Grease a twelve 2 1/2 inch muffin cups and shape into small patties or put about 2 Tbsp in each muffin cup. Brush a little olive oil on top of each mini cake and bake in the oven for 20 to 25 minutes, until golden on the outside and cooked through.
serve with a crisp lettuce or any other vegetable you like !